The Opéra de Nice presented, in March 2003, a new production of Vivaldi's Rosmira fedele, staged by Gilbert Blin. The Académie Desprez was active during the process of research and study. This production was an attempt for the Académie Desprez to establish a general conception for a new way to produce a baroque opera.
Rosmira fedele, created the 27th of January 1738 at Teatro San Angelo of Venice, is the last testimony of the operatic production of Vivaldi. It is also the last opera from the Library of Torino which had never been performed in modern times. This pasticcio offers a brilliant example of Vivaldian opera at its peak. The libretto is adapted from La Partenope by Silvio Stampiglia, one of the members of the Accademia dell'Arcadia, founded in Rome in 1690 under the protection of Queen Christine.
Research leading to the scenic conception of this production were undertaken by the Académie Desprez.




Groupe de Soutien

You will find in La boutique: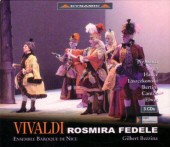 Vivaldi
Rosmira Fedele
3 CDs
Recorded at the Opéra de Nice in March 2003
Produced by Dynamic - www.dynamic.it
Authorized access for Académie Desprez's members only.
Should you meet any connecting problem or have forgotten the password ?
Then contact us



Antonio Vivaldi

Rosmira Fedele

New production
Musical Director

Gilbert Bezzina
E

nsemble

B

aroque de

N

ice

Stage Director & Designer

Gilbert Blin
A

cadémie

D

esprez

Adviser

Rémy-Michel Trotier
A

cadémie

D

esprez

Head of the paintings

Caroline Constantin
A

cadémie

D

esprez

Assistant for the staging

Lubor Cukr
A

cadémie

D

esprez

Continuo

Vera Elliott
E

nsemble

B

aroque de

N

ice

Rosmira

Marianna Pizzolato

Partenope

Claire Brua

Arsace

Salomé Haller

Ersilla

Rossana Bertini

Armindo

Jacek Laszczkowski

Emilio

Philippe Cantor

Ormonte

John Elwes
Ensemble Baroque de Nice
Opéra de Nice
4 & 6, rue Saint-François-de-Paule, Nice
Friday 21st march 2003 at 20h00
Sunday 23rd march 2003 at 14h30
Tuesday 25th march 2003 at 20h00