Upcoming
"The Monteverdi Trilogy"

L'incoronazione di
Poppea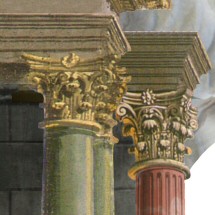 Stage Director and Set Designer: Gilbert Blin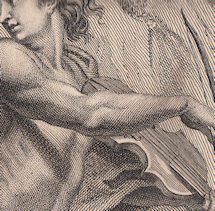 Stage Director: Gilbert Blin
Stage Director and Set Designer: Gilbert Blin

Boston Early Music Festival
June 7-14, 2015
Recently
Three lectures on

Early English Opera

by Gilbert Blin
Performance Practice Seminar
Juilliard School 2014
Gilbert Blin, Opera Director of the Boston Early Music Festival, gives three lectures on English opera of the late 17th and early 18th centuries for the students of The Julliard School. Each of these lectures features an opera in particular, and explores the work's rich meanings by placing the context of its first performance in relation to its libretto and musical form. The three sessions will also examine how these historical meanings give clues of how to perform these operas today.

Wednesday, March 19, 2014
"Adonis as allegorical hunter"
A lecture on John Blow's Venus and Adonis

Thursday, March 20, 2014
"Dido, the deceived queen"
A lecture on Henry Purcell's Dido and Aeneas

Friday, March 21, 2014
"Acis as Genius of Cannons"
A lecture on George Frederic Haendel's
Acis and Galatea

The Juilliard School
60 Lincoln Center Plaza
New York, New York 10023
USA

GILBERT BLIN, BEMF Opera Director, Stage Director, Set Designer, Young Artists Training Program Director, studied Theater History and Stage Direction at the Sorbonne in Paris. Upon graduating in 1986, he concentrated on Rameau's operas and their relation to the stage, an interest that has since broadened to encompass French opera and its relationship to Baroque theater, his fields of expertise as historian, stage director, and designer. His opera productions have been described by the American press as "revelatory," "delightful," "lavish," "gorgeous," "stunning," and "extraordinarily moving."
For his début in 1991, Gilbert Blin directed Massenet's Werther for the Opéra de Nancy. For Opéra-Comique in Paris, he presented a new version of Werther in 1994 with Laurent Petitgirard conducting, and in 1995 directed Delibes's Lakmé for the same house, a production frequently revived in France until 2000. In 1996, he was dramaturge for Bizet's Carmen, directed by David Radok, at the Royal Opera of Copenhagen. In 1999, Mr. Blin was the first French stage director invited by the Prague State Opera: his popular production of Meyerbeer's Robert le Diable, with musical direction by Vincent Monteil, has been performed for many seasons.
Gilbert Blin has worked extensively with the operas of Gluck. He was French adviser for Arnold Östman's productions of Iphigénie en Tauride (Drottningholm, 1990) and Alceste (Concertgebouw, Amsterdam, 1993). As stage director for the Drottningholm Theatre, he presented Orfeo ed Euridice in 1992. This first modern production of the 1769 "Parma Version," conducted by Arnold Östman, was filmed, recorded, and revived in 1998, as part of the Gluck Festival presented for Stockholm's year as the EU's "European City of Culture." To study the period resources offered by Drottningholm Theatre, Gilbert Blin founded, in 1999, the Académie Desprez, Association Française pour le Rayonnement du Théâtre du Château de Drottningholm.
His staged realizations of operas of the 17th and 18th centuries include a newly designed and directed 2001 production of Vivaldi's Orlando furioso for the State Opera of Prague, and a 2003 staged reconstruction of Vivaldi's Rosmira fedele for the Opéra de Nice. Returning to the latter house in 2007, Gilbert Blin designed the staging, sets, costumes, and lights of his acclaimed production of Handel's Teseo, and in 2012, he directed and designed a production of Alessandro Scarlatti's Il Tigrane, conducted by Gilbert Bezzina. For the Ensemble Baroque de Nice, he also reconstructed a 17th-century Roman performance of Scarlatti's oratorio La Giuditta in 2009. Since 2006, Mr. Blin has been working on reconstructing the original sets and costumes of Mozart operas: with Czech stage director Lubor Cukr, he presented Don Giovanni at the Prague Estates Theatre in 2006 and 2014, and Le nozze di Figaro at Opéra de Nice in 2008.
Gilbert Blin made his American début with the Boston Early Music Festival in 2001 by directing a fully staged production of Lully's Thésée. Returning to BEMF in 2007, he directed Lully's Psyché with musical directors Paul O'Dette and Stephen Stubbs at the Cutler Majestic Theatre in Boston. He became Boston Early Music Festival's Stage Director in Residence in 2008, and directed and designed the sets for Steffani's Niobe, Regina di Tebe, the 2011 Festival opera. For the 2013 Boston Early Music Festival, Mr. Blin presented Handel's Almira to great acclaim.
To inaugurate the BEMF Chamber Opera Series in 2008, Gilbert Blin staged Blow's Venus and Adonis and Charpentier's Actéon. His production of Purcell's Dido and Aeneas was created in 2010. For the same series, Handel's Acis and Galatea was first presented in Boston in 2009, and toured the U.S. and Canada in 2011. This enthusiastically received production will be remounted in Boston in 2015. Last autumn, Gilbert Blin offered a pasticcio uniting Pergolesi's two comic masterpieces, La serva padrona and Livietta e Tracollo.
In 2011 Gilbert Blin returned to the French repertoire and created a production pairing Charpentier's La Couronne de Fleurs and La Descente d'Orphée aux Enfers. Consequently, he also served as drama coach for the Grammy-winning recording of these Charpentier's masterpieces by Paul O'Dette and Stephen Stubbs. The staging was revived for the 2013 Boston Early Music Festival and toured North America in 2014.
Gilbert Blin became a Researcher at the University of Leiden in 2014; he is preparing a Ph.D. with the University's Academy for Creative and Performing Arts under the supervision of Ton Koopman: "Operas of the 17th and 18th centuries and their historically informed and inspired staging." Due to his extensive work in both the theory and practice of this field, Mr. Blin has been invited to give lectures at the Schola Cantorum in Basel, the Royal Conservatoire of The Hague, the Université de Paris-Sorbonne, and The Juilliard School.
Following his acclaimed production of L'incoronazione di Poppea for the 2009 Festival, Mr. Blin staged Monteverdi's Orfeo for the BEMF Chamber Opera Series in 2012. His new production of Il Ritorno d'Ulisse in Patria for the 2015 Festival completes the "Monteverdi Trilogy".
Gilbert Blin is the Opera Director of the Boston Early Music Festival.