Upcoming
Friedrich Christian Feustking
Georg Friedrich Händel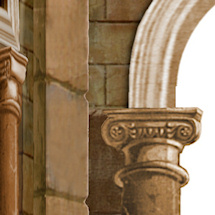 Stage Director and Set Designer: Gilbert Blin
Boston Early Music Festival
June 9-23, 2013
Cutler Majestic Theatre
Boston
Mahaiwe Performing Arts Center
Great Barrington

In progress
Lectures
The Reflections of Memory
The Early Opera Stage Work of Gilbert Blin
With a cycle of lectures, Gilbert Blin presents
a review of his staging and designing work
on early operas and shares his views on
historically informed performance.
BOSTON
Friday, February 15, 2013
Boston Early Music Festival, St Botolph Club, Boston, U.S.A.

BASEL
Thursday, March 14, 2013
Musik Akademie Basel - Schola Cantorum Basilinesis, Basel, Switzerland

BOSTON
Friday, June 14, 2013
Boston Early Music Festival,
City Room, Revere Hotel,
Boston, U.S.A.

Gilbert Blin has studied Theatre History and Stage Direction at the Sorbonne in Paris. Upon graduating in 1986, Gilbert Blin concentrated on Rameau's operas and their relation to the stage, an interest that has since broadened to encompass French opera and its relationship to Baroque theatre, his fields of expertise as historian, stage director and designer.
During his apprenticeship, Gilbert Blin collaborated with some of the greatest directors: Robert Altman, Pier Luigi Pizzi, Vittorio Rossi, Helmut Polixa, and Nicolas Joël, among others. These engagements have taken him from Paris to Stockholm, Lausanne, Copenhagen, Montréal, and Sydney. In 1987, Gilbert Blin was assistant stage director in residence at the Opéra de Paris, and under the artistic directions of Jean-Louis Martinoty and Thierry Fouquet, he worked at Opéra-Comique in Paris. From 1987, with Don Giovanni, to 1991, with Idomeneo, Gilbert Blin explored various pieces under the visions of artists like Göran Järvefelt, Volker Schlöndorff, and Sir Charles Mackerras. He also worked with sculptors and painters like Arman, Bernar Venet, and Jennifer Bartlett on sets and costumes.
For his debut, in 1991, Gilbert Blin directed Massenet's Werther for the Opéra de Nancy, which was invited to Saint-Etienne, native city of the composer, for the centennial of the piece in 1993. For Opéra-Comique in Paris, Gilbert Blin presented a new version of the show in 1994 with Laurent Petitgirard conducting, and in 1995 directed Delibes' Lakmé for the same house, a production frequently revived in France until 2000. In 1996, he was dramaturge for Carmen of Bizet, directed by David Radok, at the Royal Opera of Copenhagen. In 1999, Gilbert Blin was the first French stage director invited by the Prague State Opera: his successful production of Meyerbeer's Robert le Diable conducted by Vincent Monteil has been performed for many seasons.
Gilbert Blin has worked extensively with the operas of Gluck. He was French adviser for Arnold Östman's productions of Iphigénie en Tauride (Drottningholm, 1990) and Alceste (Amsterdam, 1993); he also directed for the Drottningholm Theatre Orfeo and Euridice in 1992. This production, conducted by Arnold Östman, was filmed and recorded and was revived in 1998, as part of the Gluck Festival presented for Stockholm's year as the "European City of Culture". Gilbert Blin founded, in 1999, the Académie Desprez, Association Française pour le Rayonnement du Théâtre du Château de Drottningholm. This Swedish theatre of the eighteenth century allows Gilbert Blin, in partnership with musicologist Rémy-Michel Trotier, to lead researches on opera and develop a whole practice through stage productions.
Realizations include a production, designed and directed, in 2001, of Vivaldi's Orlando furioso for the State Opera of Prague and, in 2003, a staged reconstruction of Vivaldi's Rosmira fedele for the Opéra de Nice. Returning to the latter house in 2007, Gilbert Blin designed the staging, sets, costumes, and lights of his acclaimed production of Handel's Teseo. For the Ensemble Baroque de Nice, he directed a staged version of La Giuditta, oratorio of Alessandro Scarlatti, conducted by Gilbert Bezzina; this restitution of a 17th century Roman performance was successfully touring France in 2009. Recently Gilbert Blin directed and designed a production of Scarlatti's Il Tigrane for Opéra de Nice.
Since 2006, Gilbert Blin has been working on a project of reconstructing the original sets and costumes of Mozart operas. With Czech stage director Lubor Cukr, he presented Don Giovanni at the Prague Estates Theatre in 2006 and Le Nozze di Figaro at Opéra de Nice in 2008.
Gilbert Blin made his American debut with the Boston Early Music Festival in 2001 by directing a fully-staged production of Lully's Thésée. With musicians Paul O'Dette and Stephen Stubbs, Gilbert Blin directed, in 2007, Lully's Psyché at the Cutler Majestic Theatre in Boston. "Stage Director in Residence" at the Boston Early Music Festival since 2008, Gilbert Blin has been directing Monteverdi's L'incoronazione di Poppea, presented in 2009 at the Boston Center for the Arts and at the Mahaiwe Performing Arts Center in Great Barrington. With the Boston Early Music Festival 2011, he directed and designed the sets for Steffani's Niobe, Regina di Tebe.
For the BEMF Chamber Opera Series inaugural production at Jordan Hall in Boston, Gilbert Blin staged Blow's Venus and Adonis and Charpentier's Actéon. His production of Purcell's Dido and Aeneas has been created in 2010. In the same series, Handel's Acis and Galatea first presented in Boston in 2009 has been touring in 2011. Recently Gilbert Blin came back on the French repertoire and created a production pairing Charpentier's La Couronne de Fleurs and La Descente d'Orphée aux Enfers. This production held by the Press as "Beautifully staged", "Delightful", and "Extraordinarily moving" will be revived for the Boston Early Music Festival and will be presented in June 2013 at the Shalin Liu Performance Center in Rockport.